You too, can Help us now!



The 2017 Subaru Share the Love Event is going on now!!!   From November 16, 2017 to January 2, 2018, Subaru will donate $250 for every new Subaru vehicle sold or leased to our Meals on Wheels program. This is really a win win. Go see our local Subaru dealer today!!!
From the November 2017 Newsletter
Hello Seniors,
Did you know that Alaska has the fastest aging population, 60
and over, more than any other state, at 61% and the Interior senior population is growing at 41.4 percent per the Alaska Commission on Aging (ACoA) 2015/2016 Snap Shot. These numbers are both inspiring and concerning. Did you also know that retired seniors cumulative economic impact is $3 billion annually to Alaska's economy as compared to fishing (2.2 billion) and construction (2.1 billion)? There is power in such numbers, power to be active, contribute to community through volunteering and the power in raising flags to draw social and political attention to the unique needs of an accelerated aging population that built Fairbanks. It takes a community and it will take the community to lead the Interior in aging care so those we love can remain here in the place we call home. We have to ask ourselves, is the Interior ready for the amazing challenges ahead?
Next, November is Alzheimer's awareness month and according to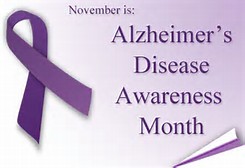 Alzheimer's Research & Prevention Foundation (ARPF) there are 4 pillars to prevention: 1) Diet and Supplements – Just like the rest of your body, your brain needs proper nutrition, blood flow, energy, and care; 2)Stress Management – The effects of the daily grind on your body are well-known, but did you know your brain also suffers when you're stressed out?; 3) Exercise – It's simple: if you want to maintain a healthy body and mind, you must Exercise; and 4) Spiritual Fitness – Increased consciousness and cognition is the final frontier of Alzheimer's prevention. Developing your Spiritual Fitness, or psycho-spiritual well-being, may very well help reduce your risk of Mild Cognitive Impairment (MCI) and even Alzheimer's. http://alzheimersprevention.org/4-pillars-ofprevention/
Here are some helpful hints with the ideal prevention diet breaks down: 20% "good" fats. Items in this group include extra virgin olive oil, avocado, and flax seed oil 40% lean proteins. Look to include fish, chicken, turkey, and soy on a daily basis. 40% complex carbohydrates. Discover the rewards of a rainbow of fresh vegetables, whole grains, legumes, and fresh fruits.
Superfoods for the brain – so eat as much as you want! These superfoods, including blueberries, spinach, and seaweed, have fabulous antioxidant properties preventing causes of Alzheimer's.
For the prevention of Alzheimer's and improving memory loss, ARPF recommends taking a high potency multiple vitamin and mineral capsule. Be sure the vitamin formula you choose contains folic acid and vitamin C. Folic acid reduces homocysteine levels—high homocysteine levels put you at risk for both heart disease and memory loss. Vitamin C has been shown to reduce your risk of Alzheimer's disease by 20% when taken with vitamin E. To take advantage of its fullest benefits, ARFP recommends to take a dose of 2,000 mg of vitamin C per day. ARPF also suggests including the following memory-specific nutrients in your daily vitamin plan:
coenzyme Q10
alpha lipoic acid
ginkgo biloba
phosphatidylserine
Omega-3's
acetyl-L-carnitine
One last note of prevention from ARPF, doing 20 minutes, three times a week of mental exercises. Doing mental exercises can reduce your chance of developing Alzheimer's disease by up to 70%! With numbers like that, it's amazing that everyone isn't exercising their brains more often! Examples of brain building exercises: reading, board games, crossword puzzles, word search games, and writing to name a few.
Our Fairbanks Senior Center Christmas Party is scheduled for December 16th. Hope to see you all there!
Darlene Supplee – Executive Director
NSCoA's Mission: The North Star Council on Aging (NSCoA) strives to meet the needs of older Alaskans by providing services which enhance and promote quality of life, self-determination, independent living and dignity.